TheCarConnection.com is a useful automotive portal that offers various information about cars. Launched since January 1997, TheCarConnection.com provides useful information such as Car Reviews, Tips and Advice, News and blogs related to cars and a comprehensive list of car reviews.
The
Car Reviews
section has a list sorted out by make. From Acura to Volvo or by style ranging from Sedan to Truck and even to schedule a test drive, TheCarConnection.com gives car buyers a chance to quickly consume information regarding their favourite cars.
New Cars
are featured at the main centre page. Photos are carefully and neatly line up to ensure the best angle of view.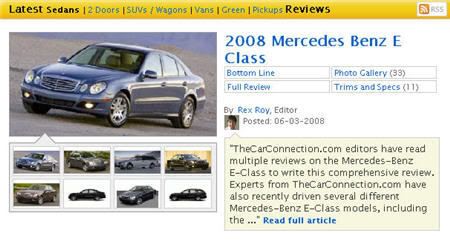 If you want updated information to be feed to you, RSS icon is available for you to subscribe on every section.
Visit
TheCarConnection.com
today.
Labels: car dealer, car reviews
posted by Encik Ash @ 12:07 AM, , links to this post